Since I both write and draw, the comics medium – or graphic novels, if you prefer – is a medium that really fits me like a glove. Here is a selection of my works (available in both Engluish and Danish):
Thomas Alsop
Thomas Alsop is a comic series from BOOM! Studios, dubbed Best mini-series of 2014 by USA Today. It was published in Danish by Fahrenheit and won the Deleuran award for Best Danish Comic of 2015 as well as Best Danish Comics Artist for Palle Schmidt's work.
Chris Miskiewicz and Palle Schmidt have created a master magician for the modern era. Fans of John Constantine and Dr. Strange will love this original take on the magic-wielding hero who battles demons on the streets… and in his own mind.
Selected press:
[quote]With Chris Miskiewicz keeping me on my toes story wise and Palle Schmidt continuing to blow me away with such a gorgeous art style, the team has me on the ride that is Thomas Alsop… It's not every day that one finds such a great combination of original story and artwork.[/quote]
— Fangirl Nation
[quote]Schmidt's storytelling is superb and he uses both shading and especially coloring to great effect. Each moment has its own distinct feel and he manages to pull the reader immediately into different times and realms with deceptive ease.[/quote]
— Bleeding Cool
More about the book at thomasalsop.com
Get the Danish book (1 of 2) from Fahrenheit.
Get the US book from Amazon here
Get the US book directly from BOOM! Studios here
Get the digital book on Comixology here
STILETTO
A 120-page graphic novel from writer/artist Palle Schmidt,  released in Denmark June 2013.
The brutal slaying of two police officers guarding a material witness pin detectives Alphonse and Maynard against their toughest adversary yet. A leak inside the department, internal affairs at their heels, and personal involvement in the case threaten to undo the investigation and a long friendship. Everything is at stake and nothing is what it seems.
STILETTO is a tale of corruption, greed and moral ambiguity. What appears to be a gritty police drama will take unpredictable twists and turns towards a personal, existential tragedy.
STILETTO is a spin-off of THE DEVIL'S CONCUBINE but reads as a stand-alone book.
Selected press:
[quote]Like a Phoenix with a Tommy Gun rising from the ashes of The Valentine's Day Massacre, Palle Schmidt, takes what Frank Miller and Brian Azzarello established in crime comics and takes it to the next level![/quote]
– Dean Haspiel, creator of Billy Dogma, and consultant on HBO's Bored To Death
[quote]Palle Schmidt's art combines European and American illustration styles to make something uniquely appealing – and that's not even talking about the writing. He's all about down and dirty, neo-noir stories that you won't be able to get out of your head – beautifully drawn characters doing ugly things to each other. Read his stuff.[/quote]
– Charles Soule, writer of Daredevil, Swamp Thing, Strongman and Wolverine
Get the Danish edition of the book here
Read the English language version of the book online at Thrillbent
The Devil's Concubine / Blodets Konkubine
The Devil's Concubine is a graphic novel from IDW Publishing. Written and drawn by Danish artist Palle Schmidt, previously released in Denmark as "Blodets Konkubine" (Fahrenheit 2008). The US cover is done by Peter Snejbjerg.
[quote]Set in a large European city, the story revolves around two cool but not too clever hitmen, hired to retrieve a mysterious cooler case by an unknown party. When the two hitmen accidentally shoot their contacts at the exchange without getting their money first, the shit really hits the fan. Chased by both the police, a gang of dangerous rastafaris, and an erratic crime boss out for their blood, the pair bluff and shoot their way through the seedy underworld, on their way to the man who hired them, towards their own destruction.[/quote]
Selected press:
[quote]The Devil's Concubine is compelling from page 1 all the way to the end. Great characters, sharp writing, stunning art, this book is an absolute treat for crime fans[/quote]
– Victor Gischler, author of The Deputy
[quote]Schmidt has delivered a classic noir tale of twists and turns. I've long admired his glorious art and now it's a treat to read his great story in English, too[/quote]
– Sean Phillips, artist of Sleeper, Criminal and Incognito
[quote]The Devil's Concubine is the type of book that can be enjoyed thoroughly if you are looking for a non-stop tale of murder and deceit. However, if you are also looking for a book that is taking a genre that has been done to death and adding a new level of character development, you are in luck as The Devil's Concubine has that also. Palle Schmidt has created a book that adds another stunning chapter to the already deep and vivid cannon of crime books. The Devil's Concubine takes notes from its predecessors while rebranding itself into a truly gripping graphic novel[/quote]
Buy the US edition from Amazon here.
For more info see http://www.devilsconcubine.com/
[hr]
Tegneserier på dansk:
Den sidste gode mand (graphic novel, Politikens Forlag 2017, efter A. J. Kazinskis bestseller)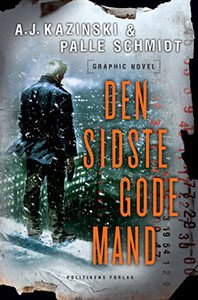 I Den sidste gode mand er politimanden Niels Bentzon på jagt efter en seriemorder der, med afsæt i en gammel, jødisk myte om 36 retfærdige mennesker på jorden, har udset sig de 'gode' som ofre. Men hvem fortjener betegnelsen 'et godt menneske'? Snart indser Niels Bentzon, at han står over for en usædvanlig morder med en guddommelig plan. Spørgsmålet er, om det er for sent.
Den sidste gode mand er en 144 sider lang graphic novel i farver, baseret på A. J. Kazinskis bestseller af samme navn. Manuskriptet er blevet til i et samarbejde mellem forfatterne og illustratoren.
Pressen skrev:
[quote style="boxed"]Ligeså vellykket er farvelægningen. Palle Schmidts teknik med at bruge akvarel hen over de færdigttegnede sider gør "Den sidste gode mand" til noget andet end en almindelig krimi, nemlig en fryd for øjet.[/quote]
— Kim Skotte, Politiken (4 hjerter)
[hr]
Diego & Dolly (graphic novel, Høst & Søn 2016)
Diego og Dolly er en grafisk roman om den altoverskyggende kærlighed. En kærlighed, der kan få selv den mest grå og triste hverdag til at lyse op i den smukkeste røde farve. Diego og Dolly er det perfekte par. De er skabt til at være sammen. I al evighed …
Skrevet af Jesper Wung-Sung og illustreret af Palle Schmidt.
Pressen skrev:
[quote style="boxed"]  En sjældent deprimerende historie, og det skal forstås positivt![/quote]
Berlingske, 4 stjerner