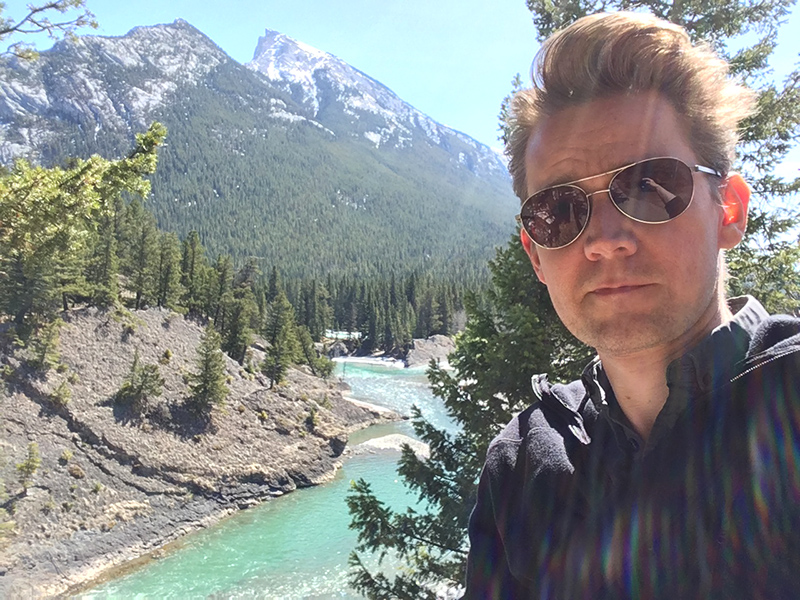 If you follow me on social media you'll likely have seen a s**tload of touristy pics like this one. Me in the woods, by the ocean, in a park or just hanging with the family in wonderful BC, Canaday. We were actually just going to Toronto for the comics festival TCAF but it ended up being a two-month family trip, beginning on the other side of this enormous country. Seriously. It's huge. I come from a country not much bigger than the room you're in right now so for me it's just a mind-blowing experience to be able to see snow-capped mountains, rivers and forest as far as the eagle can fly. I've never seen wilderness like this anywhere. Even passed a bear just quietly sitting by the side of the road like a tired hitchhiker who forgot his sign. Pretty amazing.
After a short stop in Seattle, we went north by train to Vancouver, where we stayed a week before heading off to Vancouver Island where a residency stay was waiting. Two artists have created a combined art gallery and workspace for themselves in an old boat house wedged between the road going into Duncan and the creek. Underneath the gallery is a cute little apartment that works as an artist's residency program. I was given the opportunity to work from there and bring my wife and two girls with me in what became a very productive and inspiring two weeks. I was able to finish the third and final draft of an upcoming crime novel, work on a new Nelson kid's book with my wife (we wrote four books in the series already) and I spent a few days playing script doctor on one of her other books. Sometimes it's easier to see what's working and not working in somebody else's story, where your own ego, personal darlings and blind spots don't get in the way.
Now it's back to the inspiration trip that is currently taking us on a road trip through the Canadian Rockies, and I'm taking in the spectacle from the passenger seat while my wife Line does the driving. I'm the route planner, hotel booker and navigator, following along on the offline map app I downloaded to my phone (maps.me – highly recommended!). We listen to audiobooks for the kids so they don't die of boredom in the backseat and make sure to stop every few hours to have a coffee in the sun in some small town café or take a short hike in the woods somewhere. So far we've stopped in Whistler, Pemberton, Kamploops,Revelstoke, Lake Louise and Banff. When you look at a map, we've barely made it an inch from the shore but trust me, it's a lot of driving…
Last stop on the road trip will be Toronto, where I'll be attending the annual TCAF comics festival. I didn't know before booking the trip but a lot of Danes are coming over, as part of a delegation from the Art Bubble festival. It will be fun to see friends and peers – and hopefully make some new ones!