LION FORGE ANNOUNCES STILETTO – HARDBOILED CRIME NOIR AT ITS BEST FROM PALLE SCHMIDT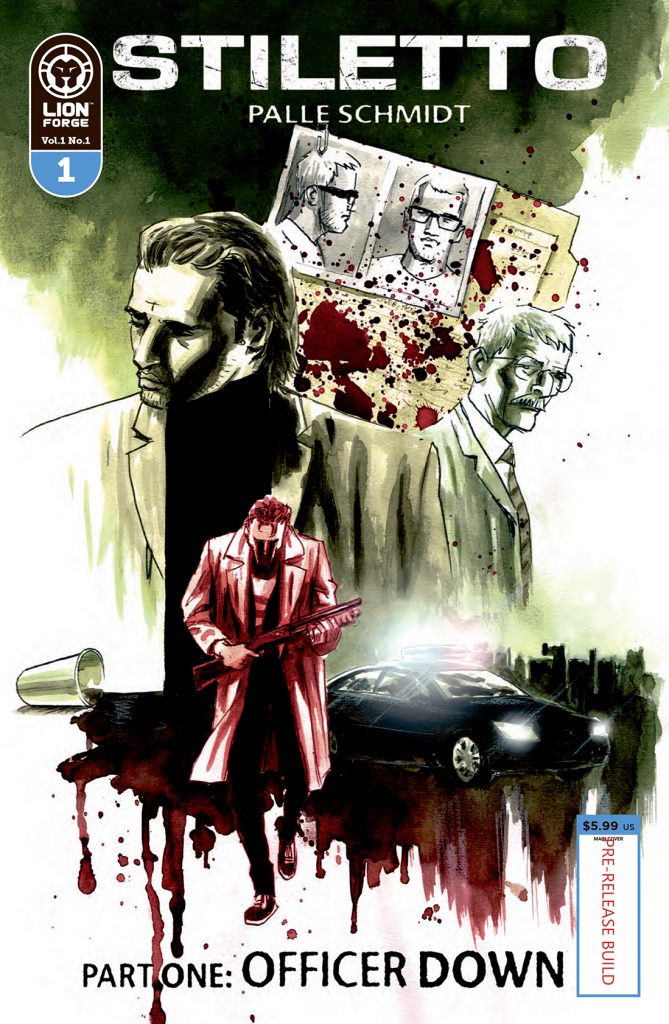 The writing is sensational as is the interior artwork, I can promise you will not be disappointed with this book.
— Reading with a Flight Ring
The Breakout Danish Series To Be Translated And Expanded in March 2019
ST. LOUIS—Lion Forge gives comic book fans another reason to be thankful this holiday season, with news that the 2013 hard-boiled crime noir series STILETTO from writer/artist Palle Schmidt will be translated and expended for release in the US next year!
Additionally, the St. Louis-based publisher of comics for everyone unveils a brand new storytelling format with this series to help expand the serialized reading experience with three action-packed 48 page issues at just $5.99. This will give fans and retailers a low risk way to jump on board with a brand-new original series! 
[quote]STILETTO looks like a cop buddy movie at first glance but you'll definitely be surprised to see where it goes" says Denmark based writer and artist, Palle Schmidt. "This is a gritty neo-noir full of twists and turns, corruption, betrayal and greed. I spent years working on the book, really pouring my heart and soul into the project.[/quote]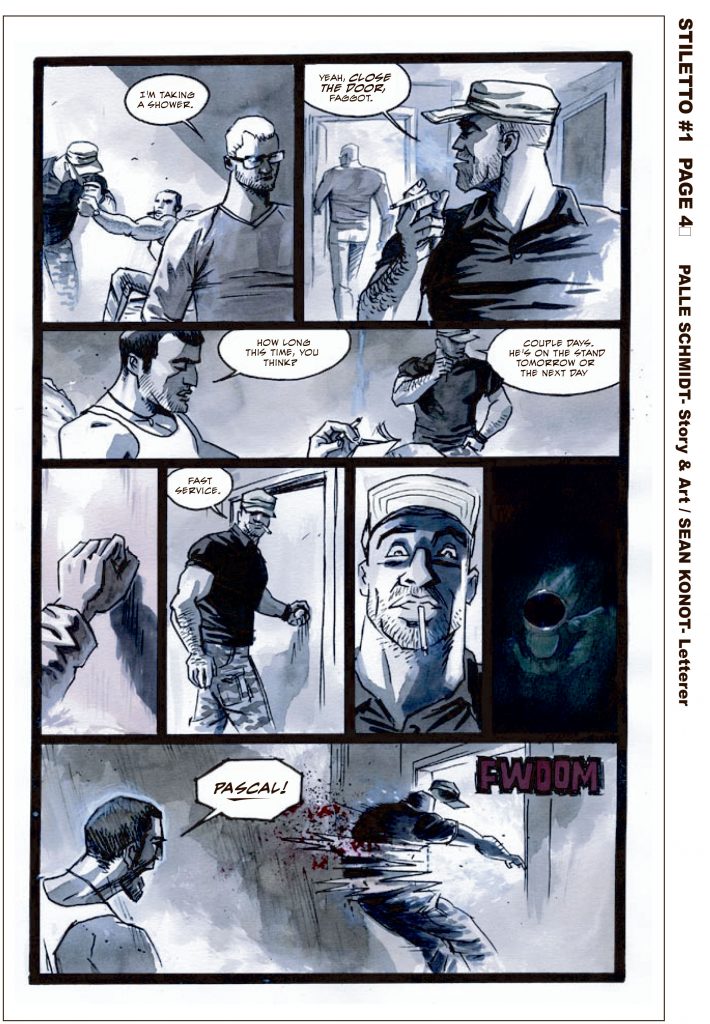 A crime story with a twist… The brutal slaying of two police officers guarding a material witness pin detectives Alphonse and Maynard against their toughest adversary yet. But as they get further into their investigation, they uncover a leak inside the police department known only as "Stiletto."
What appears to be a gritty police drama takes unpredictable turns as our heroes race against the clock to solve this double homicide and flush out the mole that puts them all at risk to the criminal underworld.
[quote]Palle Schmidt is one of those visionary writer/artist combos you rarely see… His artistry and storytelling pull you into an intricate underworld that engulfs the senses and blurs the line between reality and fiction, making you feel like you're there on a ride-along with our detectives as they desperately search for a cop-killer. Stiletto weaves a thrilling mystery that flips the entire crime genre on its head and keeps you guessing until the pulse-pounding conclusion.[/quote]
– Lion Forge senior editor, Greg Tumbarello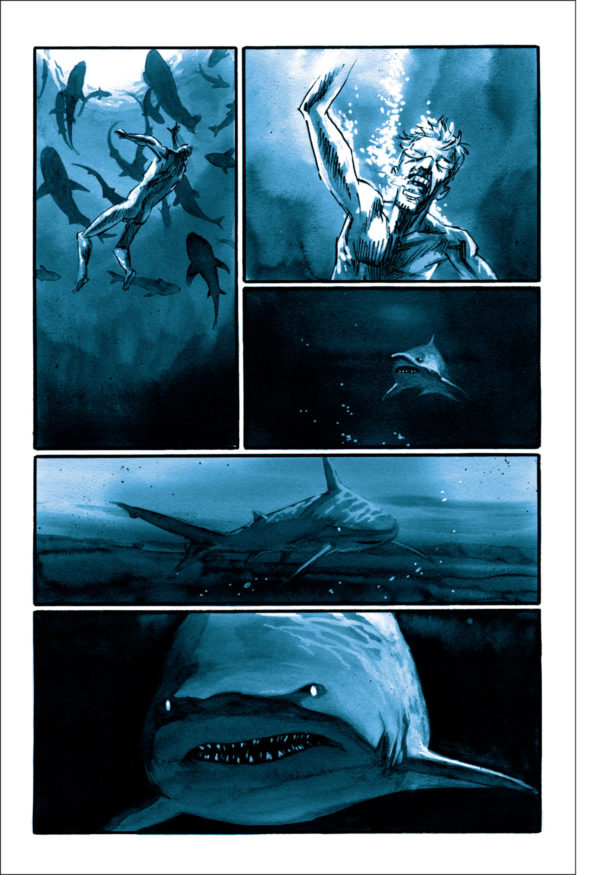 STILETTO issue #1: Officer Down is set for release in April 3rd 2019. This three issue limited series features a brand-new expanded 48-page reading experience at a value price of $5.99.
Praise for STILETTO:
All in all, Stiletto #1 is a double-sized issue with incredible art and a really well-crafted story full of twists and turns that maintains its clarity and humanity throughout, earning 4.5 out of 5 stars overall.  If you enjoy crime stories, skilled comic book storytelling or excellent coloring, this book is absolutely for you.
— MajorSpoilers.com
Schmidt's script is well-thought and meticulous, showcasing a clear attention to detail and embracing a smart narrative. Schmidt's artwork is very rough around in the edges in a good way that matches the environment the book is settling in. Stiletto #1 is a great, longer read that is setting things up nicely for down the road.
— OmniComic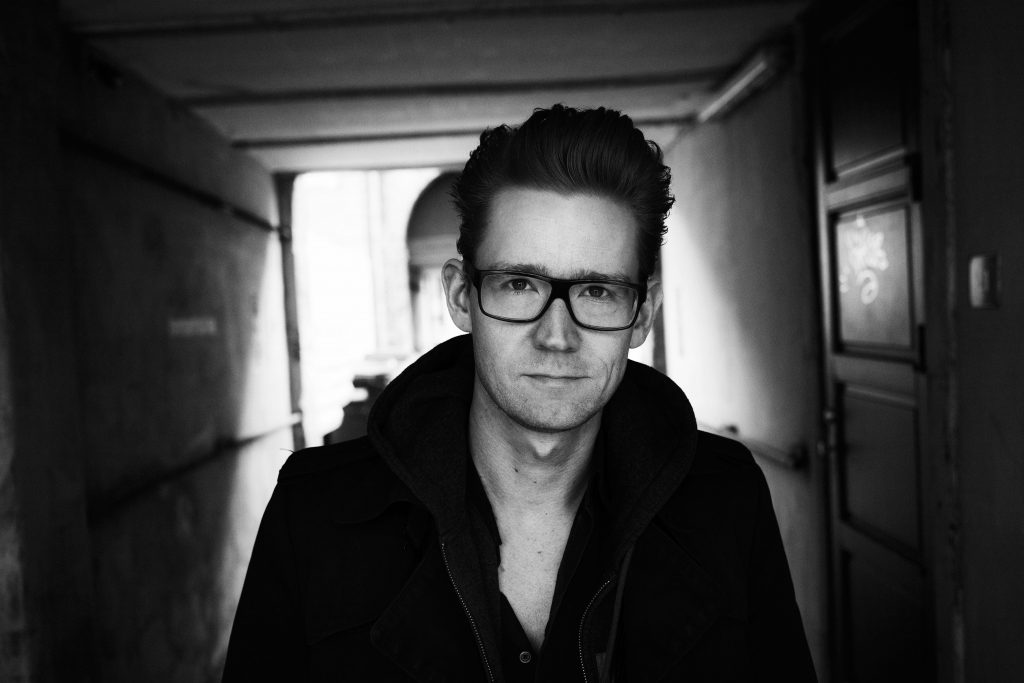 Palle Schmidt, freelance illustrator, writer and comic book artist living in Copenhagen, Denmark. Known for his graphic novels The Devil's Concubine (IDW Publishing 2011), STILETTO (LionForge 2019) and as the artist of Thomas Alsop from BOOM! Studios with writer Chris Miskiewicz, dubbed "Best Mini-Series of 2014" by USA Today. Besides writing his own comics and YA novels, he teaches comics on ComicsForBeginners.com and has a podcast with writer interviews (in Danish) at plotcast.dk. He blogs at palleschmidt.com.
About Lion Forge Comics:
Lion Forge strives to publish comics for everyone to enjoy, regardless of gender identity, ethnicity, or cultural background. The original graphic novel Andre the Giant: Closer to Heaven was nominated for three Glyph Awards, as well as the Dwayne McDuffie Award for Diversity, and Lighter Than My Shadow was voted the 2017 Graphic Novel of the Year by Amazon. Lion Forge Comics includes the Roar imprint for young adults, the Caracal imprint for middle-grade aged children, and the CubHouse imprint for early readers. It is also home to the Magnetic Collection of premium and critically acclaimed comics and graphic novels, boasting multiple Eisner Award nominees. Across multiple imprints and formats that include licensed properties like DreamWorks Voltron Legendary Defender, original works from top independent creators, and the original and all-inclusive Catalyst Prime superhero universe, Lion Forge publishes something for every level of comic book fan, young and old.
Lion Forge Comics—Comics for Everyone. Visit www.lionforge.com for more information.
Lion Forge Facebook: facebook.com/LionForge/
Lion Forge Twitter: twitter.com/lionforge
STILETTO PRESS:
[quote]Like a Phoenix with a Tommy Gun rising from the ashes of The Valentine's Day Massacre, Palle Schmidt, takes what Frank Miller and Brian Azzarello established in crime comics and takes it to the next level![/quote]
– Dean Haspiel (Billy Dogma, The Quitter, The Red Hook)
[quote]Palle Schmidt's art combines European and American illustration styles to make something uniquely appealing – and that's not even talking about the writing. He's all about down and dirty, neo-noir stories that you won't be able to get out of your head – beautifully drawn characters doing ugly things to each other. Read his stuff.[/quote]
– Charles Soule (Daredevil, Wolverine, Curse Words)
Interview on CreatorTalks podcast