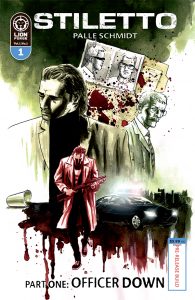 Issue #1 of STILETTO hits the shelves April 3rd! Order it at your local comics store or pre-order the trade paperback from Amazon right away.
The first 44-page issue, Officer Down, sees detectives Alphonse and Maynard on the hunt for a cop killer, a missing witness and a leak inside their own department. It's a gritty crime noir story, first published in Denmark where it got rave reviews and was nominated for the prestigious Ping Award. The 3-issue mini-series from LionForge has extra pages and sports 3 new covers. So even if you have the Danish book, you are in for a treat!
Here's what my friend Charles Soule (writer of Daredevil, Wolverine and Curse Words) says about the book:
[quote]Palle Schmidt's art combines European and American illustration styles to make something uniquely appealing – and that's not even talking about the writing. He's all about down and dirty, neo-noir stories that you won't be able to get out of your head – beautifully drawn characters doing ugly things to each other. Read his stuff.[/quote]
I do think Charles is on to something… Go read STILETTO as soon as you can, and let me know what you think!